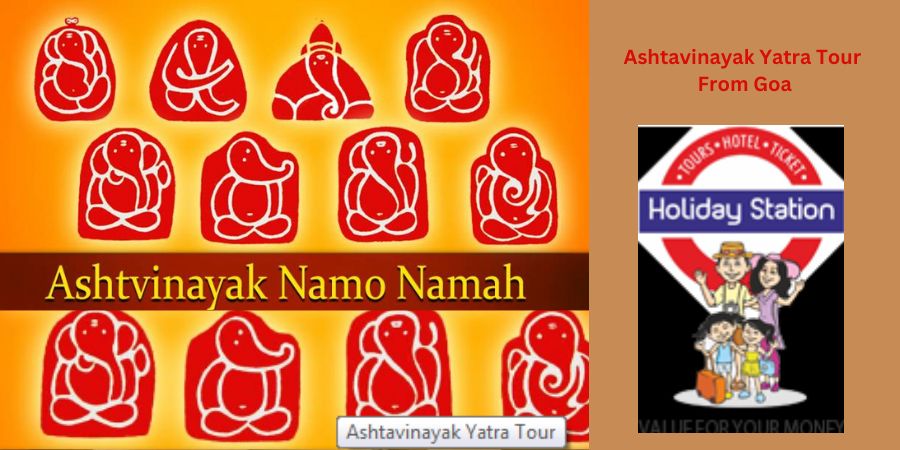 For people who want to visit the beautiful temples of Lord Ganesha and want to immerse themselves in the devotion of the Lord, the Astavinayak yatra can surely give them an unforgettable experience.
In this Asthavinayak tour, eight religious temples of Lord Ganesha are covered which are situated in Pune (Maharashtra). These very ancient temples are Shri Moreshwar Temple, Shri Mahaganpati Temple, Shri Chintamani Temple, Shri Vigneshwar Temple, Shri Siddhivinayak Temple, Shri Girijatmaj Temple, Shri Varadvinayak Temple, and Shri Ballaleshwar Temple. These temples are also known as Shakti Peeth of Lord Ganesha and are self-made. This means idols in these temples are not manmade, God himself appeared here. These temples are frequented by hordes of pilgrims, devotees, and tourists throughout the year.
If you are interested in an Asthavinayak Yatra tour from Goa, you require meticulous planning for the trip keeping the distance between the two cities (Goa and Pune). You can travel by bus or a private car for an Asthavinayak darshan from Goa. It is a pleasant journey from Goa to Ashtavinayak Darshan by bus and a private car thanks to the connectivity provided by state-owned as well as private tour operators who have a fleet of AC and non-AC buses, tempo travelers, minivans, and budget & luxury cars.
By following a perfect itinerary, you can make your Astavinayak darshan from Goa hassle-free and exciting. Many travel agencies offer the most well-planned and economical packages for the Asthavinayak Yatra from Goa to tourists across the country. They can also customize the itineraries as per your requirements and preferences. They make all necessary arrangements for your Asthavinayak darshan from Goa, including transportation, hotels, meals, and other facilities.
Keep reading to know more about the temples covered during your Astavinayak yatra tour from Goa.
1.

Shri Moreshwar Temple:
This temple is also known as Shri Mayureshwar temple. Located in Morgaon (Pune), this temple is the first temple in the Ashtavinayak Yatra route. The unique feature of this temple is the statue of Nandi (Lord Shiva's Bull), which is placed right in front of the entrance. This is the only Lord Ganesha temple where Nandi statue is found. The main temple has a beautiful idol of Lord Ganesha mounted on a peacock. The idol is surrounded by Nagaraj (Snake God) and statues of Riddhi and Siddhi (Lord Ganesha's wives). This temple is 55 km away from Pune City near the river Karha.
2.
Shri Siddhivinayak Temple:

Shri Siddhivinayak Temple is the second temple in the Astavinayak yatra tour from the Goa sequence. This temple is located on the banks of River Bhima, Siddhatek, which is almost 101 km east of Pune. This temple has the idol of Lord Ganesha with a trunk that turned towards the right, which fulfills the wishes of devotees. This is the reason why such Ganesha is called Siddhivinayaka. In this temple, extreme purity and divinity are maintained.
3.
Shri Chintamani Ganpati Temple:

Chintamani Ganpati temple in Theur is the 5th temple to be visited per the traditional sequence of the Ashtavinayak Yatra. It is located approximately 25-30 kilometers away from Pune city in the Haveli Taluka. The temple is located near the point where River Bhima, Mula, and Mutha meet. The idol in this temple is said to have self-emanated at this place and is facing towards the east. Here, the Lord's eyes sparkle with diamonds, the trunk is turned to the left and the Lord is seated on a cross-legged position.
4.
Shri Mahaganpati Temple:

Shri Mahaganpati Temple, Ranjangaon is located in Shirur Taluka.This temple is approximately 50 kilometers from Pune city. In this Temple, Lord Ganesha is worshipped as Mahaganpati, the Regal Deity.
5.
Shri Girijatmaj Temple:

Girijatmaj Ganpati temple in Lenyadri is located on the Lekhan Hills. The temple can be reached after climbing 307 steps. The entire temple is made out of a single stone.
6.
Shri Vigneshwar Temple:

Vigneshwar Ganpati temple is located in Ozar which is approximately 85 km away from Pune. This temple consists of a golden dome and a stone pillar (deep mala). The idol of Lord Ganesha at Vigneshwar Ganpati temple is studded with precious stones.
7.
Shri Vardavinayak Temple:

Vardavinayak Ganpati Temple is located in Mhad village in Khalapur taluka near Khopoli & Karjat of Raigad District, Maharashtra. Here Ganpati is worshipped as the wish fulfiller.
8.
Shri Ballaleshwar Temple:

Ballaleshwar Ganpati is located in Pali (Sudhagad taluka of Raigad district, Pune) and is known to fulfill devotees' wishes quickly. In this temple, the idol resides on a throne made of stone and embellished with a silver backrest. The eyes and naval of Shri Ballaleshwar Ganpati are studded with diamonds. The unique features of this temple are its 15-foot-high sanctum and a huge bell.

So hurry up, book now, and enjoy the Ashtavinayak Yatra tour from Goa with one of the best travel agencies.